THY SERPENT'S CULT
Last fall, I know, it's been a while, I hooked up with the growling madman and lyricist Hatred of the Chiliean cult THY SERPENT's CULT, to get some answers. Answers to how their second album "Sedition, Sorcery And Blasphemy" blew me away, when I first laid ears upon it, a thing it actually continued to, and still do this very day today! Below you can read what Hatred had to say, it turned out quite good I think, and with some luck we'll get a new album from the guys in the spring 2016, as they are set to record a new offering in December this year.
Hi guys, please start this interview off by introducing yourself and tell us how you ended up on the path of Death Metal?
Hail Anders and Nocturnal Horde readers!!! We are THY SERPENT'S CULT (TSC) from Chile (South America). We started on the path of Death Metal for one single reason… we love this kind of music more than we love our mothers.
Let's us go a bit back in time, and talk about how band was created, how did you end up with the idea of forming the band and how did it happen?
JC an I (Hatred) was a comrades in a previous band, by the year 1999, that band split up and we both followed different ways. In 2008 we reunited in another city (Santiago) and we defined ideas to create a band for kicking ass and erase the wicked christians from the face of our country. The idea was follow great bands like DEICIDE, OBITUARY, CANNIBAL CORPSE, UNLEASHED, BOLT THROWER, etc. and around that time Strife joined us and started the Death Metal massacre.
How did you end up with the band name THY SERPENT'S CULT?
Well the name was a serious problem; every name has a band and every band has a name. We didn't have a name until we used "SERPENT CULT" but the fucking name have a band (hahahaha). We added "Thy and 's" and was born the infamous THY SERPENT'S CULT. An ancient cult of the serpent from the garden of Eden, or an ancient cult of the serpent from the old Egypt, or an ancient cult of the serpent from the old Mexico (Quetzalcóatl) are some examples for the goddamn name, ahhahaha.
Did you have a 'mission' and goal ready when you first started out, or did the music and direction first take shape as you crafted songs and so forth?
Only to play Metal louder than hell, and kick some christians ass.
How do you work when writing music?
JC write the riffs and later I write the lyrics and make some arrangements; finally Strife makes the drum patterns.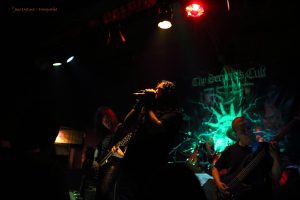 Where is the inspiration for the music found?
Spells, christian pedophiliac priests, war, hate, anger and of course a lot of Metal and red wine.
Do you have a goal with how the music have to hit and influence the listener?
No, TSC don't want to have a message or be an influence for the listener. We only play Metal and don't want to be more than that. The preachers are in the Vatican!!!
The lyrics seems quite important for the band and your expression, how do you look upon the importance of the lyrics?
No really, the lyrics are open, no message, notpose, they are only a compliment for the music. Discover your own way, don't follow leaders or preachers, and only live for Metal and kick false ones.
Who is writing the lyrics, where is the inspiration for the lyrics found and do they have a set concept?
I write the lyrics ; inspiration is TSC's music and all the shit from this world. I repeat to you the lyrics are open for interpretation, the concepts are open, I don't send messages or instructions, I only make sure they flow together with the compositions.
The Death Metal scene in Chile seems quite strong right now, how has the affected you? and do you feel like you are a part of a strong scene?
Well… many bands are active in Chile now, but places to play live are few, bad organization and nobody work and live by playing Metal here. Bands survive only for the heavy heart of its members and sacrifying family life for rehearsals and recordings. The price is high and the good moments few, but Metal is magic and magic never dies!!!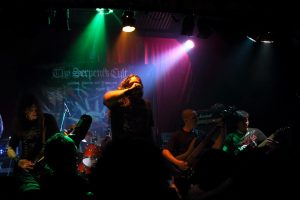 Do you play a lot of live? I can imagine a live show with you is pretty crushing!
We do not play a lot live for the reasons expressed in the previous question, but when we play we are savage and insane. Loud and strong Metal from our angry minds, we really want to be insane when play live.
What bands do we have to check out from your local Metal scene?
UNDERTAKER OF DAMNED, HURA CREPITANS, CRANIAL IMPLOSION, CANCERBERO, DIABOLICAL MESSIAH NECRODEMON, DEMONIC RAGE, etc, etc, etc…
You've so far done two great albums, with a great development from the first to the second, how do you see the band develop in the future?
Thanks a lot for your words, we are glad to read this, thank you very much!!!
The future for the band… is to record our new LP (We have 5 new songs now), play live in any place and of course be better Metal maniacs.
The new album "Sedition, Sorcery and Blasphemy" is released on the Italian label Ordo McM, how has that cooperation been so far?
Ordo MCM and Matt fucking rules!!! They are a great partners for the present and the future of TSC. We are so happy with his cooperation and really appreciate his work !!!
What are your thoughts behind the album title?
For me it is "sedition": for conspiracy, for rebellion; "sorcery": for magic and spells and "blasphemy": for christians of course!!!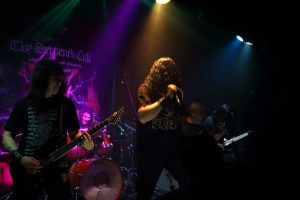 Will the new be released on vinyl? And did the first album "Infernal Wings Of Damnation" ever see a release on vinyl, or is it planned or something you would like to see?
We love vinyl format and of course we will want release "IWOD" and "SSB" on this kind of format. Maybe will 2015 be the year for getting that completed, I hope.
What can we expect from THY SERPENT'S CULT in the future, and when will we see you crushing Europe?
TSC for many more albums and to tour Europe…very soon we hope. Await our new LP in 2015.
What albums have you been listening a lot to lately?
OBITUARY "Inked In Blood", DEICIDE "Once Upon The Cross" (always listening this great one), REBELLION "Sagas Of Iceland", Conan the Barbarian soundtrack, and of course a lot of JUDAS PRIEST's classic stuff!!!
Thanks a lot for answering my questions, and for making some killer music. If I have forgotten anything or you have anything to add, feel free to add it now!
Thanks a lot to you; we are so glad for your words and questions!!! Thanks for listening to our LP and for your support…
…and of course…
WELCOME TO THE CULT!!!
http://www.facebook.com/pages/Thy-Serpents-Cult/166289156728409