What have been spinning in the cave during November, is about to see the light of day, whilst the Northern part of Denmark is getting covered in snow, just outside my windows!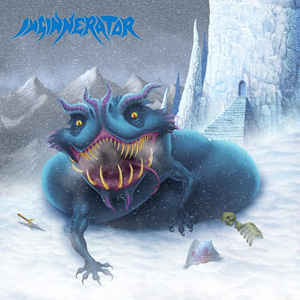 INSINNERATOR "Hypothermia"
These insane Thrashing Texans have just had their 2012 EP re-released and should have a full length more or less ready to unleash upon us! It deserves some icy noise!
TERRORIZER "World Downfall"
The best Death/Grind Metal record ever released? Hell yeah! Furious riffing from Pintado, insane drumming from Pete Sandoval, fierce vocals from Oscar Garcia and rumbling basslines from Dave Vincent… Hell of a record, a tad too good for its own good, as Napalm Death snagged Pintado and Morbid Angel Sandoval afterwards, and that was it for TERRORIZER. Though the legacy lives on strong!
NAPALM DEATH "Harmony Corruption"
After "World Downfall" "Harmony Corruption" has to be spun, it is hard to get enough of those Jesse Pintado riffs. This is where Napalm Death comes together for me, damn an album. Brutal, catchy, superb riff after riff, world class!
DARKTHRONE "Eternal Hails……"
I'm still trying to figure out if I dig this latest offering from the Norwegian duo or not – and trying to make a review that makes sense. I'm still quite divided about the album.
SETHERIAL "Nord"
This bad boy is about to get a re-release by Soulseller Records on both LP, CD and tape, goodies – A true Swedish Black Metal gem!
HYPERDONTIA "Hidous Entity"
I was blown away by "Abhorrence Veil" and "Nexus Of Teeth" though haven't really been convinced since. Musically they are still kicking good Death Metal arse, though there are something not totally clicking. I think I'll catch onto with a few more listens!
SAXON "Crusader"
Perhaps not the most applauded SAXON album around, though I still like it. Epic, sing along choruses, solid riffing and Biff's vocals, what else do you need?
HYPNOSIA "Extreme Hatred"
Damned that these Swedes didn't get around to release more material than the case was. A frenzy vocal attack that makes Mille Petrozza envious and an all out intense Thrash Metal kick to the forehead!
THE TEMPLE "The Temple"
A brutal new band and offering from the two ULCERATE mates J.W. and P.K.. Noisy menacing Death Metal interlaced with Black Metal ethics, not for the fainthearted!
SUFFOCATION "Live In North America"
The very last of last concert with Frank Mullen recorded in 2018 and what a blast, a killer setlist, though how could it be anything else, it is SUFFOCATION right? I am going to miss Frank live, SUFFOCATION without him isn't really SUFFOCATION. I caught them with Ricky Myers in 2019 before the world went apeshit… it isn't any good, he has nowhere enough stage presence or growls to cover the legacy, I'm sorry to say!
The video above is not actual sound from the album, though from the tour, and what is Suffocation live without seeing Mullen deliver the deathchop!?!