CORROSIVE CARCASS – Composition Of Flesh – (Abyss Records 2012)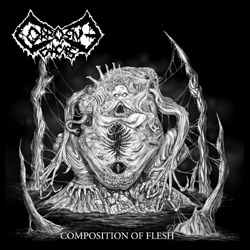 Swedish Death Metal continues its roll and the new breed of bands continues their conquering of the world. I first encountered CORROSIVE CARCASS back in 2010 when they released their demo "Rot.In.Pieces", a demo that I was hugely impressed by and gave a nice review over at Nocturnal Horde. I actually believed they would get a debut full length album ready sooner than this, though they did use 6 years to make their demo, so I reckon 2 years are rather fast in the terms of CORROSIVE CARCASS, even though 7 of the 13 tracks on "Composition Of Flesh" are reworked and re-recorded tracks from the demo.
This is classic Swedish Death Metal of the grimmest and brutal kind, you are getting turned upside down, thrown around and ripped open during the 40+ minutes the album runs.
Read the rest of the review @ Voices From The Darkside