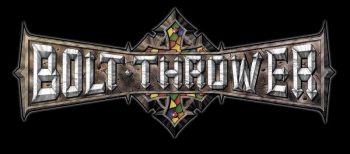 This is an old chat with BOLTTHROWER vocal beast Karl Willets that I've found in the archives, first published in 2005, not long after the release of the killer album "Those Once Loyal" – An album that would be the last BOLTTHROWER album, as Martin "Kiddie" Kears sadly passed away in September 2005. Though the great legacy the band left behind, nobody can take away!
Hi there, how are things in Britain as we speak?
Hello there Denmark… Things are pretty good here in the UK, a crisp winters day, a fuel refinery blew up the other night, that is making big news here at the moment.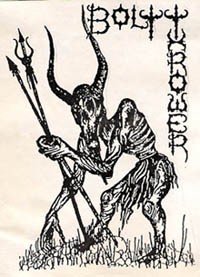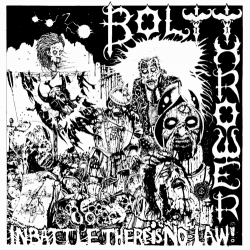 Will you please start off by introducing yourself and tell us how you have managed to keep the Death Metal flag high, in the impressive many years as you have?
I am the vocalist of BOLTTHROWER, having done the vocals for all the albums (except "Honour Valour Pride" from 2001) over the past 20 years. I joined the band in 1988 3 weeks prior to recording the debut album "In Battle…" BOLTTHROWER have remained true to their course and direction throughout the 20 years of the band's existence. Playing our own style of Metal, solid to the point.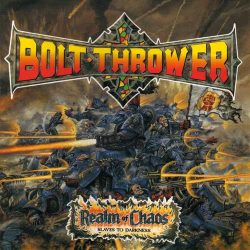 Why do you keep on playing Metal and what does it give to you?
I have tried to do a normal job and there is nothing in the world than can compare in any way to playing live in a band, it is an amazing experience; the buzz is immense, better than any drug!
Will you ever stop?
Not for the foreseeable future, we have got a full schedule of touring which will keep us occupied for the most of 2006 at least! I really can't imagine us doing anything else than BOLTTHROWER.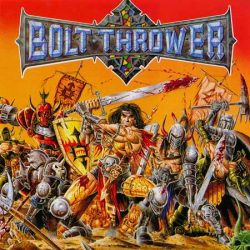 A small introduction of the rest of the band will be great as well, if there should be someone out there who doesn't know of the mighty BOLTTHROWER, and a bit about what each member contributes to the band with as well, will be appreciated a lot!
Ok, as well as on me there is Barry Thomson and Gavin Ward on guitars, Baz writes the majority of the riffs and Gav comes up with a lot of the concepts and imagery for the band. Jo Bench on bass, she also organises most of the things for the band. And not forgetting Martin 'Kiddie' Kearns (RIP) who is the drummer. That makes the existing line up of the band.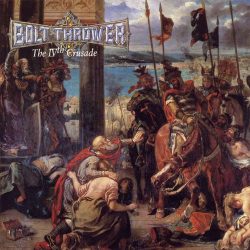 You are now ready with your new album "Those Once Loyal", quite a hard hitting title you have chosen for it, what does the album title refer to and what are your thoughts of it?
The album title is a reference to all those whom have helped and contributed to the existence of BOLTTHROWER over the past 20 years. This includes past members, crew, past and present, individuals such as John Peel (RIP) and most importantly our supporters that have remained with us.
The same question can be asked about the cover artwork, which is a part of a picture made in copper, is it a "real" picture, or is it something you got made, and what are your thoughts behind it?
The image is taken from the war memorial at Horse guards parade in London, where the trooping of the colour is performed, around the corner from where the cenotaph is located. The image is very solemn and reverential and fitted with the whole concept of the album so well.
Which lyrical themes have you touched on the album and are there a concept behind the lyrical side of "Those Once Loyal"?
I wouldn't say there is a concept, the lyrics deal with issues of war some lean towards aspects of WWI, others WWII, 'The Killchain' relates to modern warfare, it is all down to interpretation of the listener/reader as to how they relate to them.
Where was the inspiration found to write exactly the lyrics, which are present on the new album?
I spent some time visiting places of military historical background to get inspiration for many of the lyrics contained on the new album, places such as Flanders, and the embarkation point for the Normandy landings.
Will you pull out your 3 favourite tracks from the new album and tell us a bit how the track was created, what the lyric is about etc…?
'At first Light', the opening song from the album is one of my favourite off the new album; it's about before the start of battle and sets the album off at the correct pace. I really like 'The killchain', It's got a real different groove to the riff which I really like and is something a bit different from Baz, The song itself is about the digital battlefield. I also really like the epic ending and the drum outro on 'When Cannons Fade'; this again is about preparing for the real battle to begin once the artillery has stopped.
What do you expect from the new album?
It has been released for a month now and the response to it has been overwhelmingly positive, both from the press and from our supporters directly. I think we entered the German Network charts @ no. 76 which is amusing!
How do you feel about it?
We are all incredibly happy and relieved, we all really knew that the pressure was upon us to deliver something special, We worked hard with it and where very strict with ourselves in the recording process. So it is great for us to receive all the positive feedback. Excellent.
How has it so far been received by the press and the fans who have gotten their fingers on it in different ways?
We have probably received more attention from the release of this album than many of the prior releases, there seems to be more interest globally, even magazines in our own country have featured BOLTTHROWER and really like the new album, we must be doing something right!
How do you feel about file sharing, illegal downloading etc… and do you feel it affects your record sale?
It really does not bother me at all, a lot of times it will do music good and get more people to hear it, this is a healthy thing for music, especially new bands. A lot of the time if you hear something that you really like, you will go buy the album for the product itself, so it can help and be seen as positive.
Well back to the music, it seems like the album is closer rooted to some of your older albums, than to your last album "Honour Valour Pride", is it on purpose you have looked back?
There is a feel of "The IVth Crusade" and "…For Victory" within the new album, this time we spent a long time constructing the songs around killer riffs. There are many references musically and lyrically to our past albums found on the new albums. It was written using all the essential BOLTTHROWER elements retrospectively.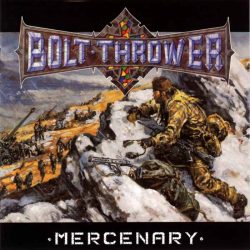 How did you get the idea to use the start reminiscent of 'Cenotaph' on 'The Killchain'? Good and nice idea in my opinion!
We always like to continue on with the 'World Eater'/'Cenotaph'/'Powder Burns' riff, it works really well when we play them live especially because they flow into each other so well, this is initially what they where designed for.
Where do you find inspiration when writing music?
I find lyrical inspiration all over the place, watching documentaries or watching films, following the news on TV and in the papers, reading books and visiting places with military history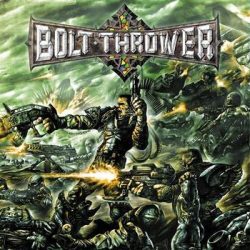 Do you have to be in a special mood when coming up with music… can you guide us through a typical situation, from one you get the idea and until you have penned the result down?
No special mood, though often ideas will come in the night, so I have a pad ready to write them down, usually these ideas are the product of reading a book or seeing something on TV. It usually helps to relax and think about what you are trying to say and what feelings you are trying to project, visiting places is good for that. The lyrics usually get re-written and reworked several times until we are all finally satisfied with them.
Is it a tough job to keep the music within the boundaries of BOLTTHROWER and still evolve it, you have kept the same style and sound for so many years now, but have still managed to evolve from album to album, it can't be an easy task?
We understand what the sound of BOLTTHROWER must be, we keep within our own set boundaries retaining the wall of guitar, aggressive vocals, thick production style, this is what is expected with a BOLTTHROWER album, any deviation would dilute the sound and it wouldn't sound right. Though as you say, with each album we often try out new ideas regarding production and song structure, the production on the new album is probably the best so far, the bass is a lot more audible, which brings a fresh dimension to the overall sound. But the bottom line is that the strength of our albums depends upon the riffs that structure the songs.
Can you pull out 3 bands that have meant a lot for your way of playing, writing and thinking music?
When I was 16-17 I was into the alternative punk scene, I used to follow a band called AUSGANG around, they did a 12″ called "Teachings Of The Web", watching this band really sowed the seed of thought about being a vocalist in a band for me. Later when I was about 20 I got into more hardcore punk, I remember thinking that DISCHARGE "Decontrol" really captured the feel of the times. When I joined the band in 1988, I really liked the ONSLAUGHT "Power From Hell" album, I had the cover on the back of my leather jacket.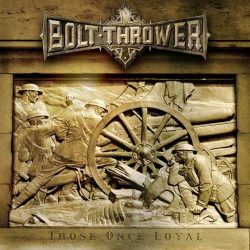 When looking back at your back catalogue you have some amazing releases and killer songs and I have many favourites among them… but which 5 tracks are you most keen of and why does those exact tracks stand close to your heart?
I think Jo was saying we had 84 songs in total, makes it quite difficult to select a set list I can tell you! Very hard to pick 5 out of them all, among them has to be 'Lament', I wrote this around the time my father died, 'World Eater' and 'Cenotaph' work so well together live I will count them as one, they are often said to be the generic BOLTTHROWER tracks. I love 'Powder Burns' and have never performed it live along with 'No Guts No Glory' off the "Mercenary" album, the song and words are so powerful. Of course the title track of the "IVth Crusade", I think everyone knows the opening lines to that song!
What is the most perfect track BOLTTHROWER has made?
The quest for the perfect track? That's a difficult one. I would say that in my opinion 'When Cannons Fade' comes pretty close to a perfect BOLTTHROWER track.
Do you have any idea of how BOLTTHROWER will develop in the future?
I wouldn't expect much of a change in direction to which we are going. The course we have set is slow and steady; with each album we learn new techniques that improve the overall production sound progressively.
Will you embark on some heavy touring in support of "Those Once Loyal" and will we be lucky enough to get a visit or 2 in Denmark?
Yes we are playing in Copenhagen on the tour, I look forward to that with great anticipation, I can remember playing some killer gigs in Denmark on previous tours! For full details check out the dates on our website: www.boltthrower.com
Next year will mark the 2oth year of BOLTTHROWER's existence, quite remarkable and worthy of all salutes!!! Do you have anything planned to celebrate the year?
Well we have a pretty hectic touring schedule lined up with over 60 gigs lined up so far (some yet to be confirmed!). We may record some of the gigs and release them as a DVD.
Will you share your 5 all time favourite albums with the readers of Nocturnal Horde?
They often change and cannot be set in any order:
SLAYER – "South Of Heaven"
AXEGRINDER – "Rise Of The Serpent Men"
TROUBLE – "The Skull"
CELTIC FROST – "To Mega Therion"
POSSESSED – "At The Gates"
Thanks a lot for answering my questions, it an honour to feature such a legendary band as BOLTTHROWER!!! If you have anything to add, feel free to add it now!
Thank you for your interest and support in BOLTTHROWER, it is appreciated, We look forward to getting out on tour, we look forward to seeing you all at our gigs… till then, Grind On!!!