As you might have read earlier on, here or another place, our favorite Norwegian Death Metal fiends of BLOOD RED THRONE has been signed by the English and quite reputable label Candlelight Records, do you remember all those legendary releases from the 90ties? I hooked up with guitarist and founding member Daniel "Død" Olaisen for a quick chat about the signing, their live attacks, and a bit about the coming album.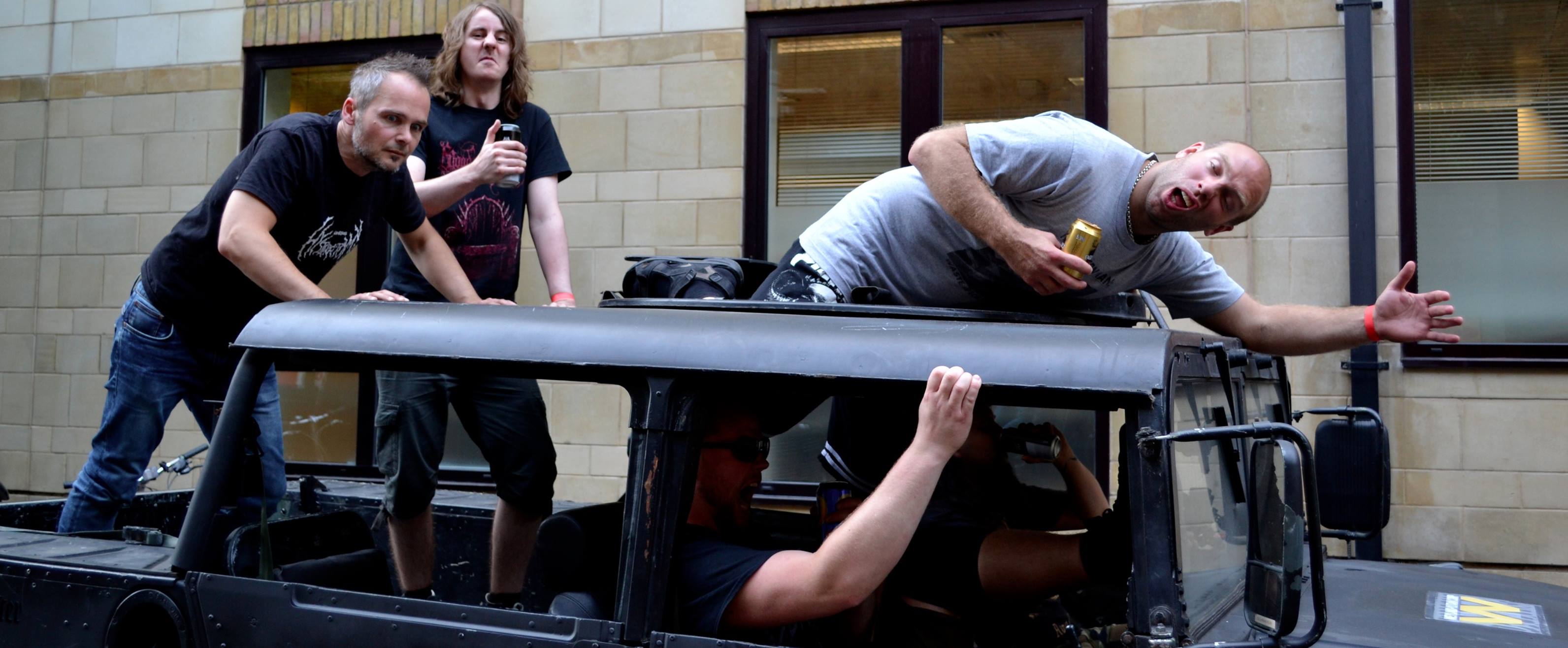 Hi Daniel, it's been a while since we last talked, which was just after "Blood Red Throne" was released, is that album still selling and are you still getting reactions on it?
Sure, we get some orders now and then. We just released the second last album, "Brutalitarian Regime", on vinyl as well. The feedback is still good, but we will make an even cooler album next year!
You released a limited LP box set of "Blood Red Throne" with some extra goodies as a treat to the fans, is that box sold out and how was it received?
To be honest, we thought it would sell right away, but we still have some left and to a decent price as well!
You've been touring quite a lot the last year or so, has it been good to get the music out the crowds and how do they react to you on stage?
We are always playing live. Last two years are no exception. We love to play live and meet the fans. Finally, people start to recognize the band and all the effort we give both on stage and albums! We interact as hell with the audience, and you can feel the vibe and atmosphere of killer Norwegian Death Metal!
I guess, you have a great gathering of fans around the world, after the years BLOOD RED THRONE has been doing music, is there anything better than getting out to those fans and deliver a kick ass performance?
Exactly. That's why I keep doing this year after year. I wanna push the band as far as possible. We still hear about long time extreme Metal fans, that never has heard about BLOOD RED THRONE, and we want to spread the madness to those people, and also the new generation.
Back in the days you used to play guitar for SATYRICON when they performed live, how is it to perform with SATYRICON compared to BLOOD RED THRONE, beside the obvious fact that you back then was a hired gun, and now it is your own band you're rocking with?
Well, I was only 19 when starting in SATYRICON. I'd only played guitar for 4 years and I'd never been on a stage before. But it went smooth and as time goes by and you've been on the stage hundreds of times, you know what to do.
It has just been published that you have been picked up by Candlelight Records, how do you feel about that and how will they be able to carry you a step or two further?
It feels great. It's a mystery that no other bigger label picked us up since we left Earache Records. Finally we can have good promotion and distribution again, and reach out to a lot more people.
It was on the same note annonuced that you are working on a new album, what can you tell about that, in what vein will it be and where have you found inspiration for the music this time around?
We have a policy to release a new album every second year, so 2015 will see a new BLOOD RED THRONE album for sure. I have 4-5 songs and they are groovy as fuck, but also some of it is a bit more old school. Meathook (the other guitarist, Ivan Gujic) has some crazy shit as usual going on, so it will be a nice combination of everything.
Do you know where you want to record the album, and who you will use to produce it?
Guitars and bass will be recorded in my home studio as the two latest albums. Drums will be recorded in a different studio. I don't know which one yet. It depends on which drummer we will use. We have no permanent drummer. Most likely my bandmate in ZEROZONIC, Martin Berger, will mix the album as he did on the last BLOOD RED THRONE album.
When can we expect the album, is that already planned?
I hope to have it out before June 2015, because we're doing a bunch of summer festivals then. I can't promise anything, except that there WILL be a new album in 2015!
What five albums have you been listening a lot to lately?
In my car right now;
ARMED FOR APOCALYPSE "The Road Will End"
OPUS FORGOTTEN – demos (a friend's band)
KEEP OF KALESSIN "Armada"
DEICIDE "To Hell With God"
http://bloodredthrone.bandcamp.com/