ANGIST "Circle Of Suffering" [self-released] 2011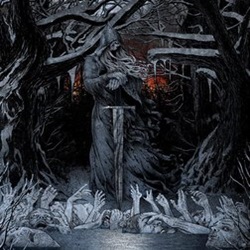 This is a release that has been out in the sun for a couple of years, though as the band has signed the dotted line with Abyss Records and soon should be ready with their first full length release, a little noise before that could be useful. That is quite alright, as I seem to have overlooked the release of "Circle Of Suffering" back in 2011, which is quite a shame as the five tracks on the release are to my liking. The band hails from Iceland and delivers Death Metal like we expected it to sound in the good old days, to simplify it; we could say ANGIST is a good mix of INCANTATION and DISSECTION, which could sound like a strange mix, if not done right. Though the two girls and two guys are doing it alright!
We have the crushing darkness and world-consuming heavy atmosphere from INCANTATION, and sometimes even the same thundering mid-paced crushing, both drum- and guitarwise, and Edda the growler, do once in a while sound like Craig Pillard, though never as guttural and outright evil, I don't think anyone ever will reach his standards, though she does also here and there resemble Jon Nödtveidt.
Read the rest of the review at Voices From The Darkside