HORNED ALMIGHTY "To Fathom The Master's Grand Design" [Scarlet Records 2020]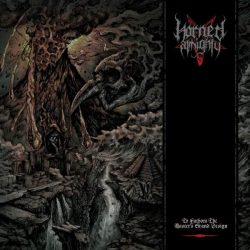 Denmark's Black Metal bangers HORNED ALMIGTHY released their 6th full length album "To Fathom The Master's Grand Design" earlier this year. I am an old nostalgic geezer, that hold debut albums dear, so I will always, so far at least, pick the band's debut album "Black Metal Jesus", released in 2004 on the Dutch label Infernus Rex, over anything newer HORNED ALMIGHTY has created, though it was also an excellent album they started out with, though this is coming quite close!
The band has matured a lot throughout the years, though it's still about grim Black Metal, the music has gotten somewhat heavier during the years, lost some of the Thrashy moments and has become more profound. It started out quite to the point and in your face, and nowadays it demands more of the listener, if you want the full experience.
Dark distorted guitar riffs and leads, a good mix up of blasting and more heavy and gloomy paces, the always haunted, mesmerizing and emotional vocal of S., much of the experience is driven by the catchy, disharmonic mainriffs and the great vocals. The atmosphere is dense, exudes mysticism and darkness. The production is dark as well, organic and energetic with a well-levelled mix with a lot of power.
Yet a great HORNED ALMIGHTY album, the darkest and heaviest they yet have done, a band that keeps on developing postive and stronger from release to release! Black Metal armageddon!
https://hornedalmighty.bandcamp.com/
https://www.facebook.com/hornedalmighty
I drank a glass or two of this wine, while writing the review: 2015, Mascarello, Giuseppe e figlio, Scudetto, Barbera d'Alba superiore